But wishes he was.
First, take a look at the winners. Yup there's lots of them. 167 contesting beers  from 33 breweries vying for Gold, Silver or Bronze in over 20 categories. And now you've got a good start to you May 24 drinking list.
A few of the many points that stick out. First, Amsterdam Brewery had four gold medals  (Spring Bock, Orange Weisse, Big Wheel Deluxe Amber, Framboise). Pretty impressive showing for a great downtown TO brewery that sometimes goes under rated by Toronto's elite – especially showcases the number of quality limited beers their putting out.
Second: The amount of good beers being made in Ontario is bananas.
Third: Rolling Rock took a silver in best North American Light Beer? Don't get me wrong, I've consumed many of these, particularly while visiting the our southern neighbors and looking to drink 12 beer without getting a buzz. But the American Midwest's favorite Blue-Collar-Freedom-Water-Choice of the Angry Video Game Nerd-Extra-Pale-Ale won an Ontario Brewing Award? Yes, I know Labatt is brewing it here now, but Rolling Rock is a surprise to see on this list.
Fourth: No awards Beaus, Kensington or Flying Monkey. I'll assume I'm just out of the loop on something, because that's an odd to me.
However, congrats to the winners. Looked great, wish I'd been there. As I watched the announcements coming in on twitter, and kept getting thirstier, and I ask I walked by the awards on my way home  just as they wrapped up (see below), I had to stop in for some Ontario Brews.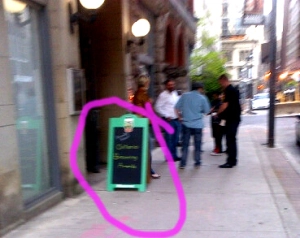 I started with the intention of buying OBA winners, but it turns out those are kind of hard to find, at least at the LCBO. So here's my winning pack, including the brand new not even on the shelf yet Beau's Festivale.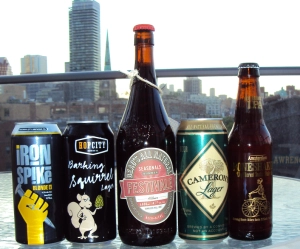 Yep we've got Railway City Iron Spike, Hop City Barking Squirrel, Beau's Festivale, Cameron's Lager and Amsterdam Boneshaker. None of em' on the winners list from the Brewing Awards, but all deserving participants (3 are from breweries that garnered awards)
What am I getting at with all this. Well, how about making the Ontario Brewing Awards more accessible and more of a spectacle. I'm not saying take away the local culture of the event, but rent out a bigger space and advertise to get the community involved – It's an exciting concept and the appetite is there. Make it a true platform for promoting Ontario Beer, where people can connect to the winners by tasting them right there – and don't put it at 5 PM on a Thursday!