…and something Toronto can learn from.
I recently visited Washington D.C. and got to experience what many authorities, such as GQ and Draft Magazine, have already recognized as one of America's top beer destinations: Churchkey/ Birch & Barley. These two beer oriented venues co-exist in the same two-story property and fall under the same ownership. Churchkey is an upstairs bar (with bar menu food service), while Birch & Barley is a somewhat formal sit down restaurant  downstairs, offering a self-described fully unique food and beer experience (including the same beer menu).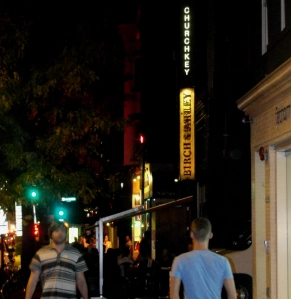 We first drop in to the Churchkey at about 8:30 on a Saturday night and walk upstairs to a fairly typical modern bar – nicely rustic, good atmosphere, quite narrow – but most impressively, the 50 or so taps, 5 casks  and 500ish different bottles in the fridges behind the bar. Its more a of a young professional scene than a hipster scene, which is par for the course in a city where even the undergrads seem to be young professionals. And the bar staff are reasonably nice for the overly busy kind. However, there may have been a bit of beersnob pleasure in the bartender's eyes when a British tourist inexplicably wearing a Hawaiian shirt asked for a Sam Adams; for the record, they don't have Sam Adams.
To be sure, this is an impressive beer experience and a popular one. While narrow, Churchkey is a reasonable sized space and was packed to the point that moving was fairly encumbered – again, this is Saturday but pre-9 pm. The crowd was mostly people there to drink beer, mixed with a few eating food at the limited table space and a few insane people watching college football. I can't deny that this makes it a fun space to be in and the expansive beer list truly provides the "kid in a candy store" feeling. My only knock on Churchkey is that the success works a bit to its detriment – the bartenders barely have time to take your order, getting any expansive insight into the beer selection was impossible.
Now, I'm sure a daytime visit may be best for the beer drinker looking for the full experience, but I will say that when I returned on a Monday night (Football being a draw with the 3 TVs over the bar), finding a seat remained a difficult task.
Luckily, on the Saturday night we had a dinner reservation downstairs at the Birch & Barley; A much more sophisticated atmosphere but with the same beer offering, and a waiter/waitress who is motivated to assist with the beer experience.
The menu is unique in itself, but we went for the tasting menu. Six courses that were impressive if not filling – scallops, steak, pork heart..etc. The tasting menu also offered an optional beer paring for $25 extra, but with some of the beers being Sierra Nevada and New Belgium Fat Tire (both great beers, but already well experienced) I decided to venture out on my own.
My choices included several picks from the draft list, including samples of High & Mighty Brewing Co. Beer of Gods, a Fire Stone Walker Double Jack IPA and Epic Brewing Co. Mid Mountain Mild Ale (at $2 -$3 a sample, it's not a bad way to go). I remember them being good, but the hour and half upstairs at the Churchkey had largely impaired any discerning skills I have.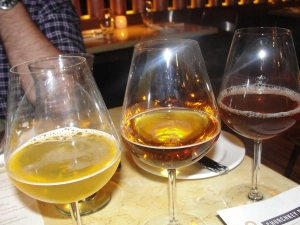 For desert, I ventured into the bottle/can list, which is nothing less than overwhelming, and numbering over 500. While there were several over-$40 selections, I chose the Maui Brewing (Hawaii) – Jolly Pumpkin Artisan Ales (Michigan) collaboration Sobrehumano Palena'Ole at $8. Apparently it is the first collaboration beer for Maui Brewing, and this one definitely sticks out in my memory. The beer features heavy flavors of passion fruit and cherry – all I can say is that this is the most fruit-juice-like if not most interesting beer I've ever had (and also a much bore straight up scary skeleton graphic than Rogue Dead Guy or Boneshaker).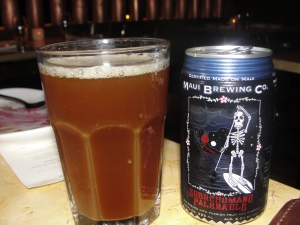 This all to say, the place is a great beer experience, and B&B does offer unique food to go with it. Yes you can run up a hefty tab if you like and yes its hard to really experience it all without getting hammered, but both Churchkey and Birch & Barley are something major cities should have – and quite frankly, I see nothing of this caliber (both in terms of beer diversity and quality food experience) in Toronto's core. Given its popularity in this smaller market, maybe something to explore…even in the face of Ontario's more restrictive regs.
More info at: http://www.churchkeydc.com/, http://birchandbarley.com/