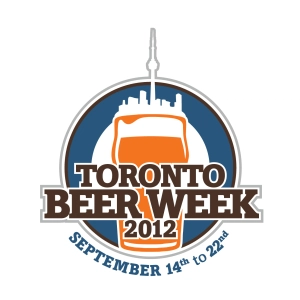 After a summer of beer, its times for a fall of beer. Toronto Beer Week officially kicked off today, running September 14 – 22 (with Premium Beer Experience happening last night). Yep, another excuse to celebrate beer in Ontario and perhaps the last of good weather for a while. What can I tell you that you can't find on the official website? Probably nothing.
However, I will say a great thing about TBW is that, like OCBW, great events are going on all over the city, to the point of somewhat overwhelming. Yeah, some of it is just bars selling beer (which I've observed they do the other 51 weeks of the year), but there are lots of great events, including one off casks and taps, beer education, dinners…and quite frankly, I like going to a bar more when they call it a "beer party".
Also looking forward to the home brew competition, which is already underway. May categories and I have high hopes for a city full of sophisticated home brewers… although I still haven't figured out if I'm actually going to get to try any of the stuff.
If you are yet to visit, I'd recommend you get to the Beer Academy tomorrow which kicked off today with a new beer launch, and is also pulling there weight in beer education events all week long.
Check the agenda here for more Beer Week event info.