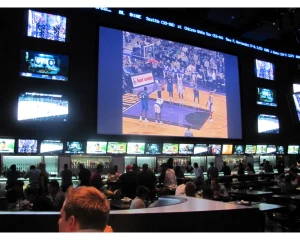 Ever hear that Springsteen song "57 channels and nothin' on". Well that's kind of my feeling towards Real Sport Bar & Grill's beer selection. They've got over 40 beers on tap, but have made very limited room for any Ontario Craft Beers – Beyond the Mill Street Organic and Steamwhistle, its the usual suspects, and then a couple of Flying Monkey Options in bottle. And this is a pretty recent improvement.
This is yet another instance of my venting on the failure of Toronto sports to embrace craft beer. Don't get me wrong, I'm a fan of many of Real Sports' choices, but place like this should put a lot more effort into its offerings.
Sure it looks more like the New York Stock Exchange than it does pub (and it's always got the suits to match) but no one's doubting this is a sports bar….I mean holy shit, look at that TV. But come on MLSE, this is a place that caters to a fairly young crowd with too much money to spend i.e. a major portion of the craft beer market.
Some might suggest we should expect little more from a venue across the street from the ACC. I disagree. The modern sports bar movement is not Budweiser in a spaceship…its actual sports and legit beer.  As I recently noted, the San Francisco Giants have it right – they have a craft beer bar with access to the stadium, and a total of 56 (many local) beers available onsite.
Conclusion: Someone should get it right. I like sports and beer, I can't be the only one.