Oh boy, the much-anticipated Toronto Festival of Beer is almost upon us, beginning this Friday July 27, 2012, and going until Sunday at Exhibition Park. Its pretty much sold out, but tickets are still available for Sunday. Here's 7 reasons why you should be there:
7.  Salt n Pepa (for real, Friday night)
You know, that 80s, 90s, 00s, 10s?  group that sings about sex and stuff. There's also plenty of other music. Should be fun.
6. Grilling Tent – featuring a rotation of celeb chef offering up beer grilling ideas….and stuff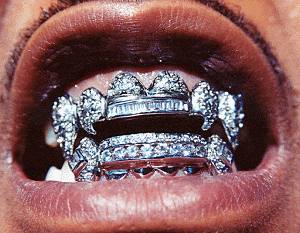 (Artist's rendering of the grilling tent, can't vouch for accuracy)
Zane Kaplansky, the guy from President's Choice, other people…there impressive, that's all I know.
5.  Real Commemorative Glasses
Ya, this isn't some kids show where they don't trust you. Here, you get to enjoy the weight of real glass, and bring home a nice memory. Class, friends.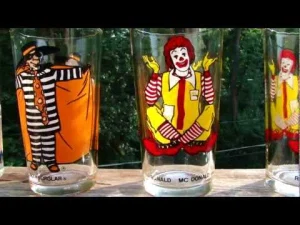 4. Man, everyone's gonna be there.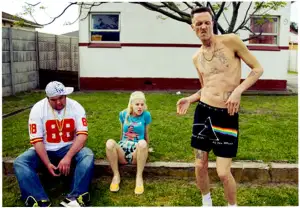 (Note: Die Antwoord will not be there)
3. I heard there's gonna be food trucks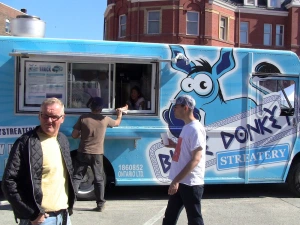 (Note: Blue Donkey Streatery will be there)
Food trucks, so hot right now. Only because they're awesome. Here's who's coming (yeah, probably technically a lot of technical non-trucks):
Belly Busters Submarines, Blue Donkey Streatery, Caplansky's Deli, Cypress Grove Chevre, EDO, Fidel Gastro's, Friendly Greeks, Grandpa Ken's Back Bacon on a Bun, Hey Meatball!, K-Song Tacos, Ontario Corn Roasters, Oyster Boy, Rock Lobster Food Co., Royal Elephant, Smoke's Poutinerie, Sno Ball & Sons, The Feasting Room, Tiny Tom Donuts, WVRST
2. Loads of beer, and for those who are tired of craft beer only events, you will be well represented…
Asahi Beer, Banks Caribbean Lager, Beau's All Natural Brewing Co., Beer Barons, Big Rock Brewery, Black Oak Brewing, Brick Brewing Company, Charlevoix, Constellation Brands Canada Inc., Cool Beer Brewing, Coors Light, Creemore Springs Brewery, Estrella Damm Lager, F&M Brewery/Stone Hammer Beers, Great Lakes Brewery, Guinness, HogsBack Brewing Company, Hogtown Brewers, Hop City Brewing Co., Innis & Gunn – Innis & Gunn Blonde, Innis & Gunn Canada Day 2012, Innis & Gunn Original, Innis & Gunn Rum Finish, Labatt…uhhh there's a ton more plus Jack Daniels too I guess.
1. The World of Beer Pavilion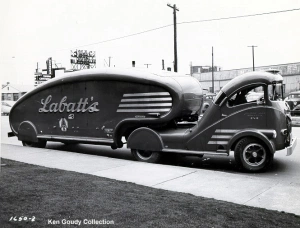 (this has nothing to do with the great beers that will be represented but it comes up when Googling Quebec beer and its pretty neat)
The World of Beer Pavillion – A new annual showcase of beer from a particular region, offering great beers that aren't available locally. This year's "region" is Quebec, meaning not so far but I know Quebec has lots of great beer that I am hoping to try.