Well, both of these things could use some better publicity. The 9th annual Ontario Brewing Awards are fast approaching – May 17, 2012. Lots of great Ontario Brewers will be in attendance to accept awards and hand out some samples. Its being held at the Beer Academy, 75 Victoria Street, in Toronto. Should be a blast.
On that note, the Beer Academy as a venue is not even open yet, but coming soon. You may remember, this was the short lived and pretty terrific home of Duggan's Brewery before they moved out last year – and there was no doubt that something beer related would soon snatch it back up, especially with that beauty hardware. Its gonna be six-pints head quarters, the craft brew division of Molson Coors, which includes Creemore Springs.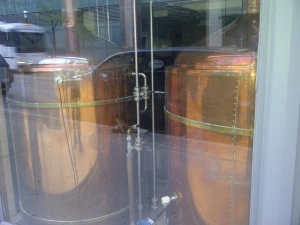 More to come on all of this. In the meantime, if you want tickets to the Brewing Awards, get your $10 tickets here. You'll probably have to sign up though.